New York City has become the epicenter of attack as crowded streets and sidewalks are prime for the Islamic State's most recent mode of terrorism. We saw this recently as a terrorist mowed down pedestrians and bike-riders on Halloween day, and now we're seeing this again, for a sickening reason after a driver going 50 mph sent bodies flying. New Yorkers are on understandably on edge after having received more than their fair share of these horrific assaults and are bracing themselves for more.
Photos and details from the harrowing scene are emerging now along with who is at the center of it.
The Daily Star reported that the total victim count as of right now is one dead and six wounded, some of which are in critical condition. The drive rammed pedestrians in a Queens neighborhood at about 4:45 am Sunday morning. At this time, investigators believe it's not terror related but that cannot be ruled out entirely as the assailant behind the wheel is still at large. CetNews reports that police are still looking for the attacker, who fled the scene after mowing down droves of innocent people.
According to New York Daily News:
An irate hit-and-run driver mowed down six people, killing one, after a knife fight outside a Queens hookah bar Sunday morning, according to police and a witness.
Cops found at least one person dead after the violent fracas outside XS NYC at 129th St. and Liberty Ave. just before 5 a.m. in South Ozone Park.
Police believe two stabbing victims who showed up at a hospital after the fight were hurt in the melee.
The driver of the white Hyundai Sonata fled after plowing into the crowd and is being sought by police.
A video of the mayhem, obtained exclusively by the Daily News, shows the Sonata driving at a high rate of speed before jumping the curb cut and traveling down the sidewalk, headed toward the pedestrians. About 5 seconds later, a silver Nissan SUV can be seen doing a U-turn on Liberty Ave., and tearing onto the sidewalk behind the Sonata, in apparent pursuit of the first car, the video shows.
Before the cars jumped the sidewalk, a passing motorist spotted a woman trying to hold back a member of the brawling crowd.
"He was going after someone. That's why the girl was holding him back," said witness Ozzie Rogers, who said he pulled over to watch the spectacle. The angry man ultimately broke free of the woman's hold.
"The girl is yelling 'Stop, stop. No, no,' when this car just comes from nowhere and hits the whole group," Rogers said.
"The bodies went flying. The car was going really fast, at least 50 mph on the sidewalk."
While this is likely not related to Islamic terror, the attacker employed the same horrific method of murder as ISIS leaders are teaching lone wolf proving that psychopaths are no different than terrorists, just their motive for murder may be. Perhaps he was inspired by the Halloween killer who recently did the same thing on the upper East side, which the media has since been completely silent about, despite it being proven as an actual terrorist attack on our own soil.
On Halloween night an "islamomonazi" terrorist by the name of Sayfullo Saipov, who just happens to be a 29-year-old immigrant from the Muslim Mecca known as Uzbekistan, murdered eight people in a truck attack in Manhattan just steps away from the World Trade Center location.
Of course, the far left media outlet CBS News released a photo of the Islamic Terrorist after his arrest. It appears to be an image of his Florida driver's license.
Sayfullo looks like a bearded caucasian in the CBS photo. In fact, he looks as white, or even more whi than most of us who are of European descent.
But this is what he really looks like compared to what CBS tried to make us believe.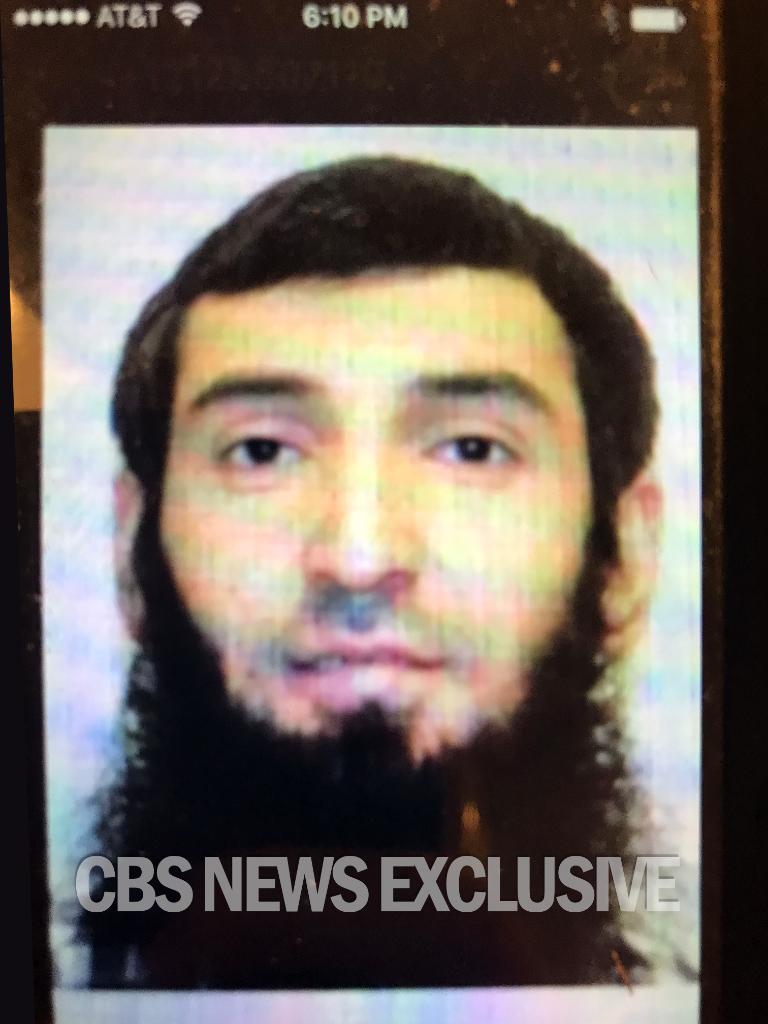 CBS News is now being accused of photoshopping Saipov's photo which is 100% obvious if you compare the picture they showed to the real picture.
New York Daily News reports:
A number of people were shot near Stuyvesant High School Tuesday afternoon, police said, and one person was taken into custody.
Police were investigating reports of up to four people shot dead.
Witness Frank Brito, 45, told the Daily News he saw two trucks crash into each other and then a heavy set man get out of one in a blue tracksuit and chase someone, firing five or six times.
Reports of an active shooter came in about 3 p.m.
"Oh my god I just heard gun shots and ran with my dog," pop singer Josh Groban tweeted. "Downtown. F—."
"I work on chambers street," el_dorado91 tweeted. "Shots came from Chambers and West Street. Someone who was eyewitness said cab driver fired shots."
The Muslim cab driver was confirmed to have committed the act as a lone wolf terrorist.